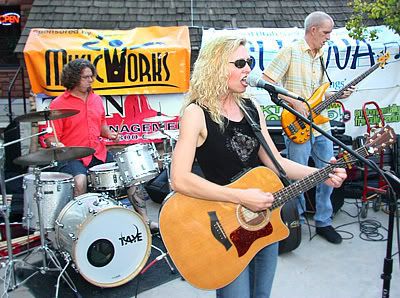 Thanks so much to everyone that showed up to this concert.  I was really happy about how this went.  Thanks to Richard Panessa from SUSWA for having us out.  It was a great evening! 

This past week has been really busy with both the SUSWA concert and the Cedar City Fall Concert Series.  Thanks so much to Larry Baker for all he did in putting that together.  It was great to get to hear Steve Swift Play again.  It's been awhile.

In other news, there's alot of upheavel in the economy lately.  Just remember if they decide to have a recession, just don't participate :-). Keep the money flowing. Buy and invest. Consumer confidence is everything. My two cents anyway.

Review of the SUSWA concert:

Karyn Whittemore was our featured performer and as the pro that she is, takes control of an audience from the first song with her sultry style, powerful voice, and song selections. Journeymen Chuck Triplett on bass and Shawn Owens (sssss) on drums fill out the trio nicely. No additional accompaniment is necessary as they provide a nice clean, clear sound that allow Karyn's lyrics to shine through.