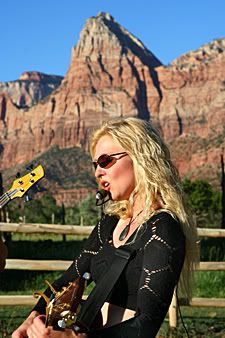 I played at

Jessie's Grill

in Springdale (gateway to Zion's National Park) last night.  I want to thank Cory &  Jessie Nelson for inviting me out.  I love this place. If you travel to Zion's Park, you must stop there on the way in.  The food is excellent. 

I hope to make it a regular gig.  As you can see in the scenery behind me, Zion's National Park is a special place and that's not even technically the park area that people pay to see.

People ask me why I don't tour more. Springdale is the answer to that question.  I would rather drive a short distance to one location that people from all over the world travel to than drive hundreds of miles to other locations to play to audiences.  It's kind of my Branson.  

There's more pics of this in my myspace blog.